Commencement Ceremony
---
Date: To Be Determined
Graduate Line-up

A cap and gown is required to walk in Commencement. Candidates for graduation should plan to arrive in cap and gown at 5:00pm. Graduates will line up in the Parking Terrace, west of the Huntsman Center. Staff members from Enrollment Management will be on hand to assist candidates in lining up with their college and to provide the Program of the Day. Bookstore representatives will also be available to help with caps and gowns.
Please note that Police K-9 Units will be present in the graduate line-up area as a safety measure to detect prohibited firearms and explosives. The University of Utah enforces state law regulating firearms on campus. Utah law allows a concealed weapon permit holder to carry a handgun in a concealed manner on school property. Questions may be referred to the Department of Public Safety, 801-585-2677.
Parking and Transportation
For information regarding guest parking, accessible parking, shuttles, and other transportation related information, please visit the Parking Page.
Guest Seating
Guests should plan to be seated before 5:30 p.m. and may take seats of their choice in any area of the Huntsman Center except those reserved for the graduates. Invitations and tickets are not required to attend Commencement. Please note: unfortunately, strollers are not allowed into the arena seating area, nor are they allowed in any of the wheelchair cutouts. They may be stored at the ticket counter near Portal 23.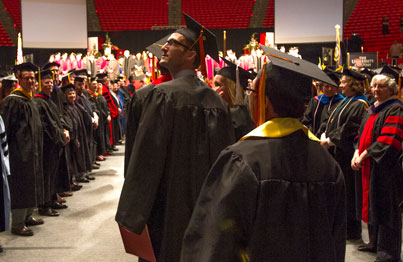 Commencement and Procession
The Commencement procession into the Huntsman Center will consist of four separate lines and will begin promptly at 5:45pm. Candidates for graduation must remain in the appropriate line during the procession to ensure proper seating with their college. The program will begin after all graduates have been seated at 6:30pm.
For information regarding this year's commencement speakers, please visit the commencement speaker page.
Commencement is expected to last approximately an hour and a half. At the conclusion of Commencement, a recessional will lead graduates out of the Huntsman Center. Graduates and their guests may wish to arrange in advance a place to meet after the ceremony.
---
Special Assistance

Graduates and guests with disabilities attending Commencement can request accommodations through the Center for Disability and Access at 801-581-5020. Please give us reasonable prior notice to arrange the specific accommodations you may need.
American Sign Language Interpreters will be available in the first three rows of section C and the ceremony will be captioned on the arena screens.
For guests, wheelchair cutouts are located in each section of the arena in Row 31, which is level with the concourse. They are available on a first-come basis.
For graduates in wheelchairs or with limited mobility, please meet a staff member from the Center for Disability and Access at the Elevator located between Portal 6 and 7. From there, you will be escorted to the arena floor. Please try to arrive at the elevator by 5:30PM. During the ceremony you will be seating with students on the arena floor. A CDA staff member will be available after the event to help escort you back up the elevator to the concourse.
For information regarding parking, please visit the Parking and Transportation Page. Accessible entrances and parking can also be found on the U of U Campus Map by selecting the "Accessible" option from the Map Features drop-down menu.
---
College Convocation Ceremonies
Convocation Ceremonies for individual colleges are held throughout campus at various times. Please refer to the College Convocations page for specific information about your convocation.
Regalia
The best time to get your graduation regalia is during Grad Fair. Regalia can be pre-ordered beginning February 24, 2020.
Flowers
Flowers will be available to purchase for graduates at the commencement and convocation events, or you can purchase the flowers online.