Parking and Transportation
---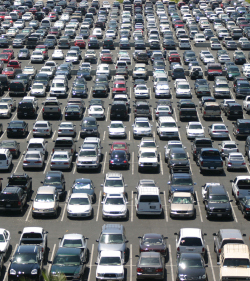 Campus parking lots may be used at no charge during commencement and convocation ceremonies. Please see our commencement parking map for parking locations as well as shuttle and TRAX stops. Additionally, since campus parking is limited, we encourage the use of UTA TRAX on these days. The use of TRAX while on campus is free both days, but fare is still required for any off campus travel.
*Please be aware due to another scheduled event there will be no parking available at Rice Eccles Stadium April 30th through May 1st Commencement and Convocation ceremonies. Please see the parking map for alternate parking locations.
**Please note that traffic on 5th South on Friday May 1st will be closed.
Shuttle Services
As campus parking is limited, graduates and their guests are encouraged to use the free campus shuttle service to travel between commencement events. Shuttles run throughout campus and are scheduled every 10 minutes. Track the current location of any campus shuttle using the Live Shuttle Tracker.
Accessible Parking
For a map to all accessible parking options on campus, visit the campus map and select the "Accessible" option from the Map Features drop-down menu.
Construction Alerts
For a map with notifications regarding all parking lots effected by campus construction, view the campus map and select the "Construction" option from the Map Features drop-down menu.
Commuter Services
For more information about transportation and parking options, visit the Commuter Services website.